I think there is a need for some crowdsourcing of Apple bug reports and tracking. I will track issues I find here while I also try to find a good place to report on Apple issues on one of the forums.
I have been quietly ignoring Apple ID computer authorization errors because there doesn't appear to be an easy way to resolve them.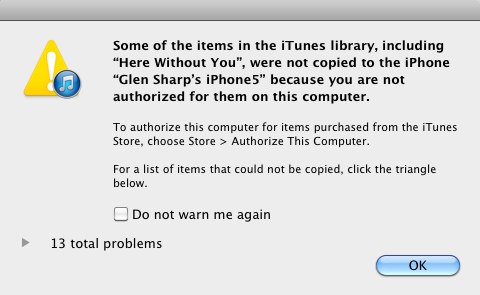 It seems easy enough as instructions are provided in the error message to just use the store menu in iTunes to authorize the computer which in this case is an iPhone 5. First you can't do this while the error message is open. If you select authorize this computer from the store menu nothing happens. If you close the error message by choosing ok you can then try the prescribed remedy but then you are told that the computer is already authorized.

The remedy for authorizing the "computer" is not well designed because it not only doesn't solve the problem – it also doesn't make clear what computer is being authorized. Is it the laptop that is running iTunes or the IOS computer connected by USB? When you are told the computer is already authorized which one are they referring to? The spelling is also sloppy because in the error message and Store menu the command is to "authorize" but in the response the spelling is "authorised" (twice). Some consistency in spelling would leave a better impression on the attention to detail that Apple is normally famous for.
On the Apple support forum from 2011 there is what I have found to be a typical thread. It starts by blaming the person reporting the problem who is confused by the interface. There are some comments by people implying that the solution should be obvious which are the equivalent of suggesting that the person should read the (nonexistent) manual. Then there are some comments at the end that other people have the same problem. There is no resolution of the problem and no one from Apple provides any response that the problem is even acknowledged and might be worked on eventually. The forums are user to user which Apple hosts but doesn't participate in.
Upon further investigation my particular instance of this issue is due to having an earlier Appleid that some songs were purchased with. Apple has no support of consolidating IDs or transferring purchases so the solution to removing the old Appleid is to repurchase the items with your new ID. It also appears that computer authorizations apply to the traditional computers only even though on the Appleid account list of authorized computers IOS devices are shown too.
The prescribed remedy and quality of prompts fail. The design fails by not being clear. Computer authorization doesn't "just work". How long has this bug been around? This is hard to say but it is definitely not recent (older than 2011) and there have been several updated versions of OSX (Snow Leopard, Lion, Mountain Lion) and iTunes (now up to version 11.0.2) that have failed to correct it.
I hope that the delays in OSX and IOS are putting emphasis on fixing longstanding bugs and much needed design fixes as Apple itself emphasizes that design is about making things work and not just a pretty interface.
Update:
It is possible to authorize a computer to 2 different Appleids so purchases from both IDs can be synced with IOS devices. This removes the error messages for my particular situation. Apple still needs to improve their iTunes Appleid authorization design and implementation.